Personalizing cancer care with AI: Protyon secure pre-seed investment
Meet Protyon, a spin-out from the University of Groningen and the University Medical Center Groningen, developing predictive software to help clinicians choose the best possible treatment option for each individual lung cancer patient. The TopDutch-based HealthTech start-up recently received pre-seed investment to accelerate their product development.

Worldwide, an average of more than two million new cases of lung cancer are diagnosed each year. Treatment is costly and, unfortunately, in most cases only effective for only a short time. Often as a result of the emergence of new mutations, the medication used against a mutated protein no longer works. This makes it extremely difficult for physicians to choose the right targeted treatment. Particularly when there is an accumulation of mutations, it is often a matter of trial and error.
This is where Protyon comes in. Improving and substantiating clinical decisions for individual patients is what their solution aims to do. 'Our predictive technology enables personalization of lung cancer treatment,' said Hoang Nguyen, COO of Protyon. 'By providing personalized and well-informed treatment advice, the quality of life of lung cancer patients can be significantly improved. Simply by minimizing the risk of ineffective treatments and their side effects.'
Molecular visualization
In short, Protyon creates a 3D digital model based on the genetic code of a mutation. A molecular visualization that mimics the behavior of protein molecules. 'This provides rapid and accurate insight into how specific tumor cells interact with proteins in existing and experimental drugs,' explains Matthew Groves, Chief Science Officer of Protyon. 'By looking at how binding will occur at the protein level, we can - in simple terms - predict whether or not a treatment will be successful in a patient. And in turn, that knowledge also provides good starting points in the development of new drugs for personalized lung cancer treatments. We also want to make the technology applicable to other forms of cancer in the near future.'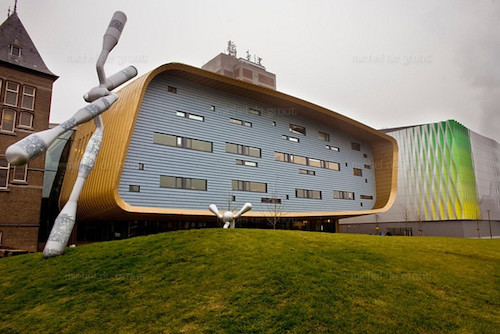 A successful pilot study was recently completed by Protyon. With that, the start-up demonstrated that the technology also works in a clinical setting. 'Knowledge about how mutations affect the action of medication at the molecular level can have a huge impact on the choice of effective treatment,' says Nguyen. 'Hence, we are currently building an algorithm to fully automate the process. Then we can scale-up and - because the hardware requirements are relatively low - reach and help large numbers of doctors and patients anywhere in the world.'
Lower healthcare costs
To support the start-up in its next steps, the Investment and Development Agency for the Northern Netherlands (NOM) and Eindhoven-based early-stage investor LUMO Labs, decided to invest in Protyon together. The funding will be used to develop the technology and develop a SaaS model. 'Protyon's 3D model and algorithm help clinicians make the desired match for patients with the most effective treatment for lung cancer,' says Annemieke Wouterse, NOM's Investment Manager. 'Besides a better quality of life for the patient, this also results in lower healthcare costs. The start-up fits perfectly into NOM's strategy of investing in promising early-stage Life Sciences & Health solutions.'
Diverse team
Protyon grew out of a collaboration between Matthew Groves and Josef Melcr. A professor of molecular biology, Groves had been working on the technology at UMCG for several years. After meeting Melcr, a researcher at the University of Groningen active at the intersection of biophysics, chemistry and biology, they both realized they could do a lot for each other. Rositsa Jordanova and Hoang Nguyen later joined the pair, as CEO and COO, respectively, and Protyon was founded in early 2023.
'It is great to see such a complete and diverse team putting their heart and soul into the further development and actual use of this valuable technology,' said Sven Bakkes, founding partner of LUMO Labs. 'As investors, we look forward to being part of that journey.'
Sign up the newsfeed:
TopDutch Professional
"*" indicates required fields
---
---