The Dutch invented the CD and DVD, Wi-Fi, Bluetooth and Python. Today, we form a digitally savvy society, being highly educated, wealthy and enjoying excellent internet access. Our open and innovative culture invites us to develop and test new digital technologies. The global digital infrastructure has one of its main internet exchange points in the Netherlands. TopDutch offers the digital infrastructure, unique innovation and market field labs, networks, talent and an excellent test-market population for rapid market access and validation. Here, we accelerate the digital future.
Our offer
1. Best digital infrastructure & power grid
2.Strong in data science and deep learning
3. Digital society & ideal test-market
4. Accelerating Industry 4.0
5. Access to pioneering talent & skilled labor
6. Fastest business development
1.Best digital infrastructure, power grid & data center location
The TopDutch region is the ideal location for energy- and data- intensive businesses looking for a location in Europe.
The Netherlands, with the TopDutch region specifically being the starting point, has the most reliable power grid in the world, with an uptime of 99.999%.
The Netherlands, and again with the TopDutch region as a key entry point, has the most optimal fiber connectivity, with the lowest average latency in the EU.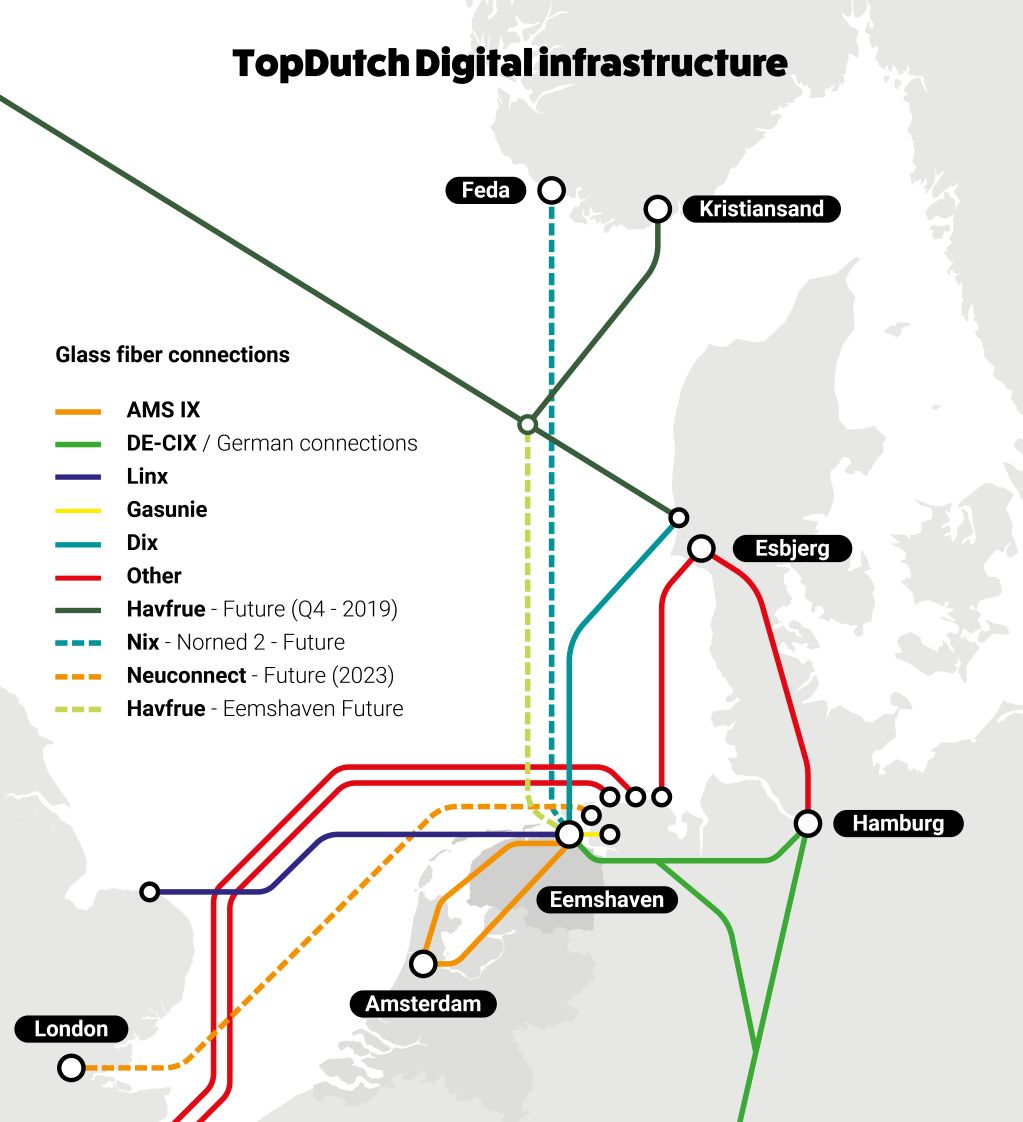 Home to Gemini 1, the largest offshore wind park in Europe - and expanding. Gemini Wind Park is built 85 kilometers off the TopDutch coast, leading to a park that produces green energy for over 800,000 households. It won't be long until Gemini 2, 3 (and counting) will rise in our shallow North Sea to power our industry, the rest of Dutch households and your data centers.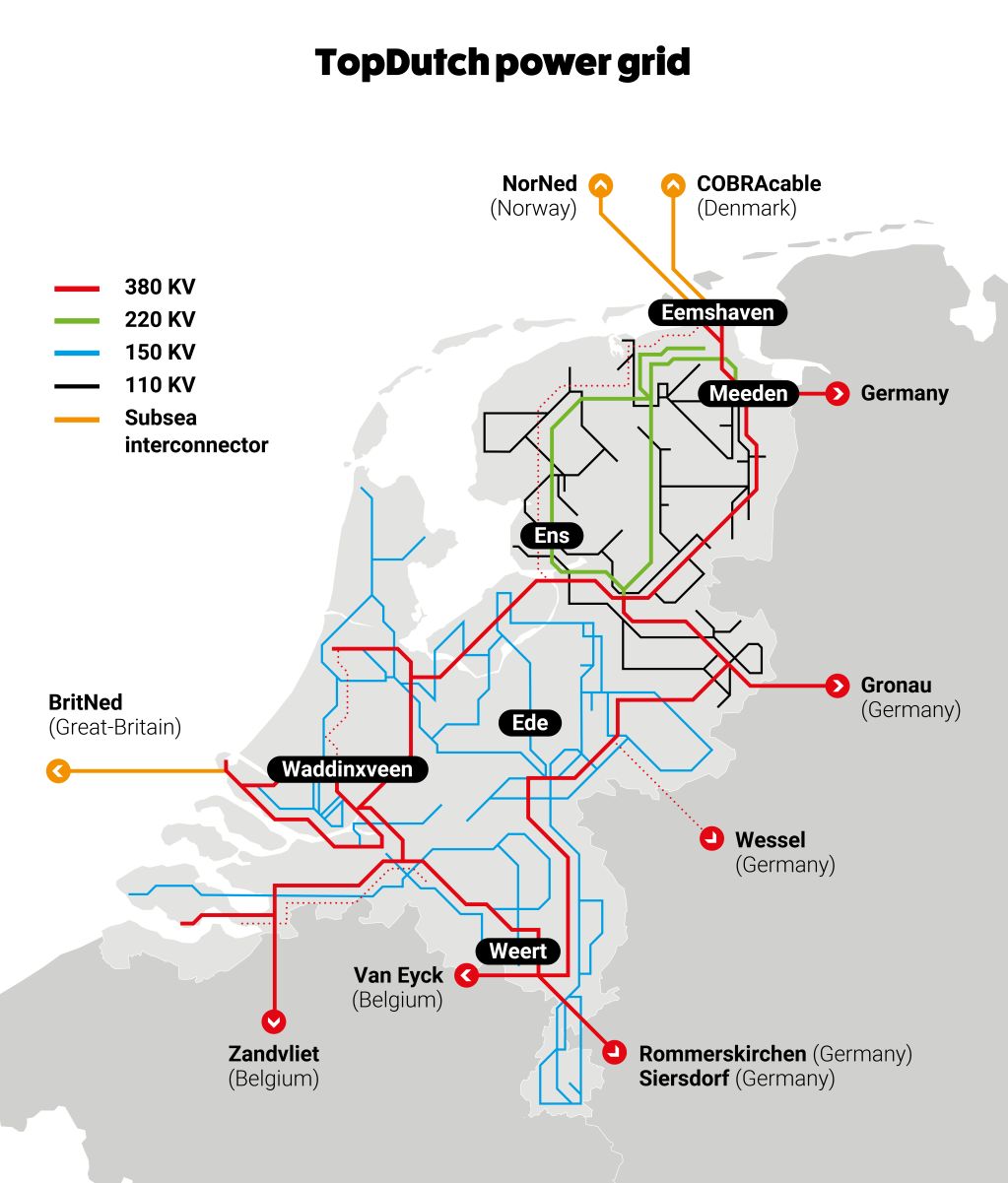 Ideal location for data centers. Besides a rapidly expanding production capacity of green energy, the TopDutch region offers large green field sites available for industry and data centers, and an ideal climate for cooling.
Google was first. Google opened its first data center in the TopDutch region in 2016. A year later Google announced its plans for a first expansion, and in summer 2019 Google announced a second expansion. Investments now total over €200 million. The TopDutch data center is Google's first data center to run entirely on green energy.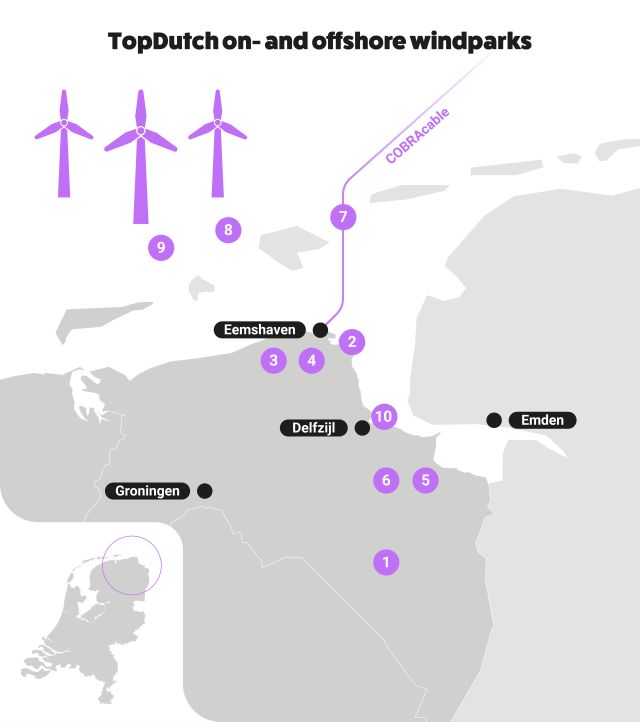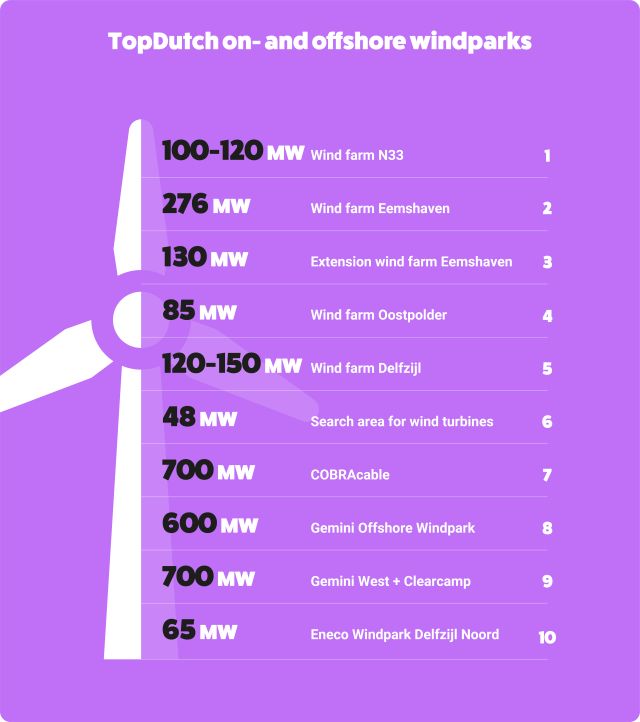 2. Strong in data science and deep learning
The TopDutch region is dedicated to becoming one of the smartest regions in the world, collecting and processing absolutely astronomical amounts of data each day.
TopDutch is home to ASTRON, the Netherlands Institute for Radio Astronomy, who are making discoveries in radio astronomy happen. In the late 1960s ASTRON designed and built the Westerbork Synthesis Radio Telescope (WSRT) and in the 2000s the LOw Frequency ARray (LOFAR). Both are powerful radio telescopes used by hundreds of international astronomers, frequently working on large distributed teams. ASTRON is a leading partner in the Square Kilometre Array (SKA), the global endeavor to design an advanced international telescope with many partners worldwide. The ASTRON headquarters in the TopDutch region is a vibrant workplace and hub of expertise. ASTRON also hosts the ERIC JIVE (the Joint Institute for VLBI in Europe) and the NOVA Optical/IR group.
Solving large problems with High Performance Computing. Besides ASTRON, companies such as Bytesnet and IBM, but also our University of Groningen, are leading in high performance computing that helps us to solve large problems in science, engineering and business.
Collaborating with global top tech firms on Deep Learning endeavors. In the TopDutch region, our Center for Information Technology (CIT) works together with Google and Facebook on Deep Learning projects.
Home to CogniGron, the Groningen Cognitive Systems and Materials Center. Hosted by the University of Groningen, CogniGron develops materials-centered system paradigms for cognitive computing based on modelling and learning at all levels: from materials that can learn, to devices, circuits and algorithms. CogniGron brings together different scientific disciplines with the aim to develop a cognitive computer: A computer that functions like the human brain.
The University of Groningen hosts several other Big Data research centers:Groningen Engineering Business Center (GEBC) connects research questions from the industry to the university's research and educational offer, closing the gap between knowledge institutions and business.
Groningen Digital Business Center (GDBC) develops knowledge and adjusts its educational offer to young professionals for the digital economy.
Groningen Center for Digital Humanities (GCDH) connects research in social sciences with computer and information sciences.
Data Science & System Complexity (DSSC) translates research in big data and complex systems to innovation and educates data-experts for the academic, private and public sector of the future.
Frysk Datalab supports organizations with big data analysis in a hypermodern datalab provided with the latest technologies.
​​​​​​​Offering big data facilities and field labs. The University of Groningen offers, via its Center for Information Technology, a wide variety of facilities and field labsData Federation Hub coordinates the use of data and facilities of the University of Groningen with internal and external partners.
Geodienst offers geographical data, software and courses, data analysis and problem solving to partners from within and outside the university.
Reality Center offers unique, powerful and advanced virtual reality facilities for innovative research in several sciences.
Academic data center offers a public database of public data published by the Dutch CBS (Statistics Netherlands) for scientific research.
5G field lab offers businesses a rural living lab to test 5G technologies and services.
Big Data Mining field lab supports businesses to collect and use data in a smart way.
EnergySense field lab offers a living lab for businesses to develop and test new energy products and services for households.
dHealth Lab offers a living lab for businesses to develop and test new healthcare products and services in both virtual and physical environments.
3. Digital society & ideal test market
Our digital-savvy society keeps learning and updating their skill-sets. The Dutch culture encourages innovation and technological adoption, making the Dutch population an ideal test market.
Digital Literacy in a Digital Society. Digitalization, datafication, robotization, big data, blockchain and artificial intelligence, to name a few trends, require an expanding digital literacy curriculum for our society to understand and work with these new technologies. We have a Digital Literacy Coalition of 18 partners that collaborate to facilitate, share knowledge and educate citizens of the TopDutch region with the aim of realizing a 'Spiral of innovation'.
Cyber Resilience for a Safe Digital Society. Several cyber cooperatives in the Northern Netherlands have joined forces to develop cyber resilience in all the region's companies, government organizations and society.
The Netherlands ranks number four in technological readiness, with a score of 9.44 out of 10. The Netherlands scores perfectly across almost all sub-indicators, including internet use, patents, scope of e-government and research infrastructure.
The Netherlands ranks number two on the 2018 Global Innovation Index, published by WIPO, INSEAD, and Cornell University. We excel on this index with a: number 1 ranking in business sophistication
number 2 ranking in knowledge & technology outputs
number 3 ranking in creative outputs.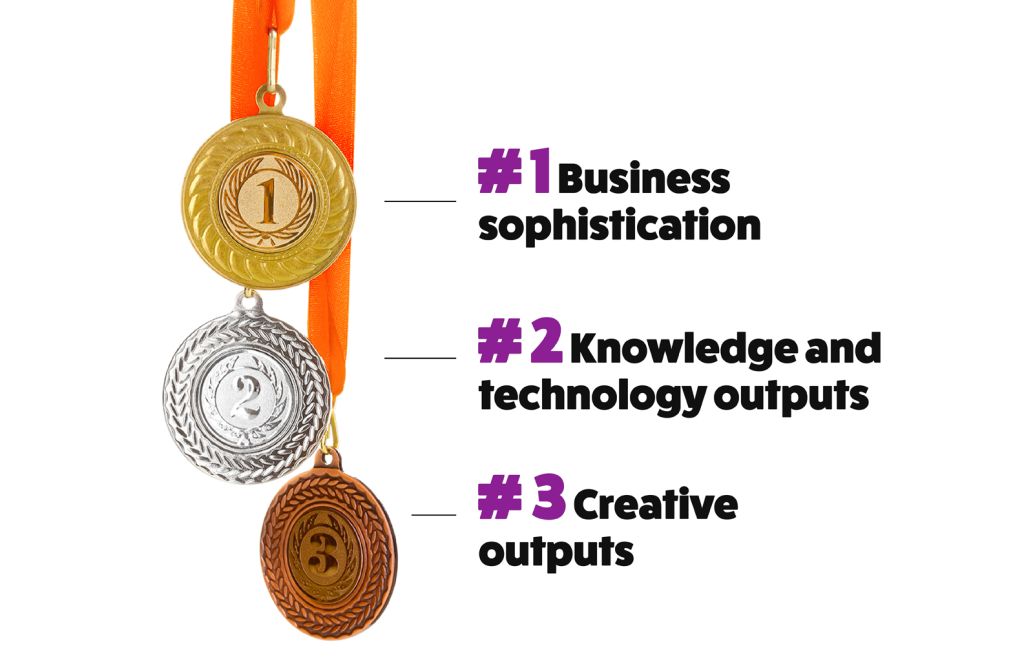 4. Green and digital ecosystem accelerating Industry 4.0
We have a strong starting position (openness, innovation drive, connectivity) to become a leading economy in the digital society. TopDutch built an ecosystem that will accelerate the pace of digitalization even more.
Home to Digital Innovation Hub. The Digital Innovation Hub is a non-profit service-oriented competence center which aims to accelerate the digital transformation of the industry in the TopDutch region. The hub is shaped by a community of TopDutch Smart Industry Fieldlabs, Innovation Cluster Drachten, regional employers organizations, the investment and development agency for the Northern Netherlands, knowledge institutes and regional authorities. Through offering smart industry assessments, supportive services, knowledge sharing and community building activities, the TopDutch region will lead the green and digital economy.
Cross-over with Energy. Cross-linked with our energy industry, we set up data labs to test energy products and services for households (EnergySense). We use big data to make our energy-intensive processes more efficient and develop new energy technologies, applications and processes together with the New Energy Coalition in various research projects.
Cross-over with Mobility. Cross-linked with our mobility industry network, we develop smart factories for battery and fuel cell electric vehicles.
Cross-over WaterTech. Cross-linked with our WaterTech innovation chain, we develop highly specialized water technologies and sensor technologies for industry 4.0.
Cross-over with AgriFood. Cross-linked with our AgriFood industry, we develop new technologies such as soil sensor systems, smart dairy farming technologies and technologies that perform calibration measurements to optimize the performance of our cultivation and greenhouses for more sustainable farming.
Cross-over with Life Sciences & Health. Cross-linked with our Life Sciences & Health industry, we have set up big data labs such as dHealthLab and DASH (data science in health) for developing and testing smarter health care and healthy ageing solutions
Cross-over with Green Chemistry. We use computational modeling for predicting optimal bacterial engineering models, speeding up optimization and upscaling of these new biotechnical processes to produce chemicals for agricultural, biomaterials, flavors, fragrances and biofuels. We also use big data to optimize processes in our chemical plants.
5. Access to pioneering talent and skilled labor
TopDutch is the region of talent, home to an ever-increasing number of both scientific and entrepreneurial talent.
Access to talent
The Northern Netherlands is a nucleus for higher education, with more than 75,000 students. The Netherlands has the second-best higher education system in Europe.
The TopDutch region offers over 60 IT-related education courses. From research university level to vocational level.
The TopDutch region hosts transformative and integrative research programs encouraging and attracting pioneering talent, such as CogniGron, GEBC, GDBC, GCDH and DSSC (see point 2).
The Northern Netherlands IT Academy offers traineeships and training to students of every education level, having trained over 1,800 talents since launching in 2014.
Access to skilled labor
The TopDutch region is home to 60,000 IT-skilled people- over a wide age range- 35% of whom have over 10 years of working experience in this field.
Nearly 100,000 of our residents have technical competences, with over half of them having more than 10 years of experience working in a technical job.
6. Fastest business development and production facility start-up
The TopDutch region aims to accelerate the green and digital economy by facilitating and speeding up business development.
Home to Technologies Added, the first shared smart factory in the world, introducing a new formula for the manufacturing industry. Whether you are a start-up or an established firm that wants to set-up production in Europe fast, preferably tomorrow, discover Technologies Added today. Technologies Added currently hosts the production of 10 companies, in the field of flexible manufacturing and smart products.
TopDutch is the Region of Smart Factories, an industry network full of smart factory solution providers that can support and speed up your production facility start-up.
We have the fastest business development in Europe, The Northern Netherlands offers some of the most attractive establishment procedures for new companies in Europe:
It takes only 4 days to register your business, one week to open bank accounts and insurance, and two weeks to release your VAT Number.
Companies who need to establish their own facilities, require only 17 to 26 weeks from application to the start of construction - a process that takes more than 25 weeks in Spain, 40 weeks in the Czech Republic and 30 weeks in Hungary.
We provide a dedicated team to comprehensively and smoothly guide you through the business foundation process.
Our stories
Stories that show you what it means to be part of TopDutch
Our process
Get started

1. Get in touch
Through our TopDutch contact page, by email or direct to your dedicated industry project manager, get in touch to start the conversation.
2. Receive industry bidbook
Once you've confirmed you are interested in more information about investment in the region, we'll be happy to send our industry specific bidbook to you.
3. Alignment meeting
We'll schedule a meeting with your team and our regional dedicated project team to identify your needs and align objectives.
4. Receive company-specific bidbook
Now we understand your objectives, we'll provide you with a bidbook tailored to your company's needs.
5. Fact-finding trip
We'll schedule a fact-finding trip in our region for your team to introduce you to relevant useful contacts in both the private and public sector and organize visits for site locations.
6. Investor roundtable
For investments requiring partnerships and co-investment, we'll organize an investor roundtable with relevant key decision-makers.
7. Kick-start business development
Once you've confirmed you've reached a decision to invest in our region, we'll kickstart your business development process so you'll fully benefit from our fast procedures.
Contact
Speak to an expert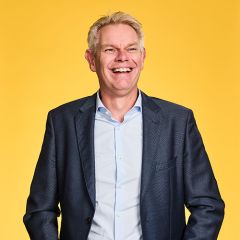 Project manager Digital Innovation
Subscribe to the newsfeed
TopDutch WaterTech Package
Get your hands on:
Unlimited access toTopDutch Digital Innovation articles
The most exclusive investment updates, industry insights and key stories from our key industries
Invites to exclusive international industry events and meet-ups
"*" indicates required fields