The tight-knit business community and collaborative culture of the Northern Netherlands makes fertile ground for innovative start-ups across a wide range of industries. Well-established firms are always willing to give the youngsters a hand, and the communities of start-up ecosystems, accelerators and shared facilities makes the sharing of knowledge and skills all that easier.
Our offer
1. A nation of start-ups
2.Fastest-growing start-up ecosystem
3. Culture of collaboration
4. Relocation services
5. Unique business development programs
1. A nation of start-ups
The Netherlands is a top-five start-up hotspot in Europe, with a government committed to supporting the innovation-leaders of tomorrow.
The Netherlands' prosperous and stable economy, accessible business climate and high quality labor force led NimbleFins to name us the fourth best country in Europe to locate a start-up in their 2020 study, with the second healthiest economy in the region for start-ups.
The Netherlands' business environment made fertile ground for a diverse array of high-potential start-ups.

We had the third heaviest start-up density in the European Union in 2021.
We had the third highest level of venture capital investment per capita in 2021.
Being a start-up in the Netherlands means being a part of a network of like-minded, ambitious entrepreneurs.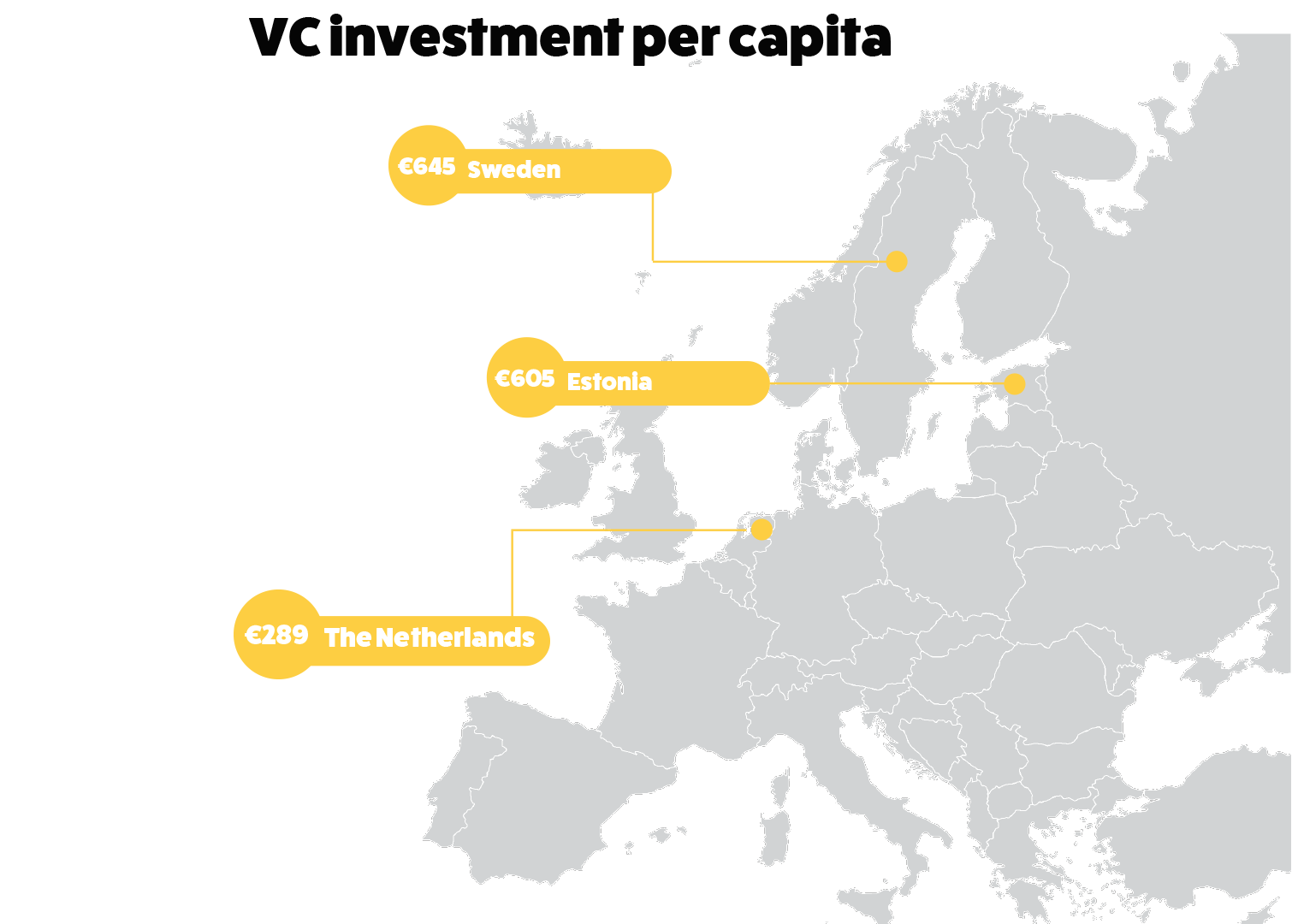 2. Fastest growing start-up ecosystem
Within the Netherlands, the TopDutch region is a hotspot for impactful new start-ups.
Our province of Groningen has the fastest growing start-up ecosystem in the country, growing by over 10% per annum for each year since 2018, equating to:

200 new start-ups within four years.
Over 1,000 new jobs within 4 years.
Our provinces of Drenthe and Friesland are also powerful catalysts, with their own start-up communities growing by an average of around 7% year-on-year from 2018 through 2021.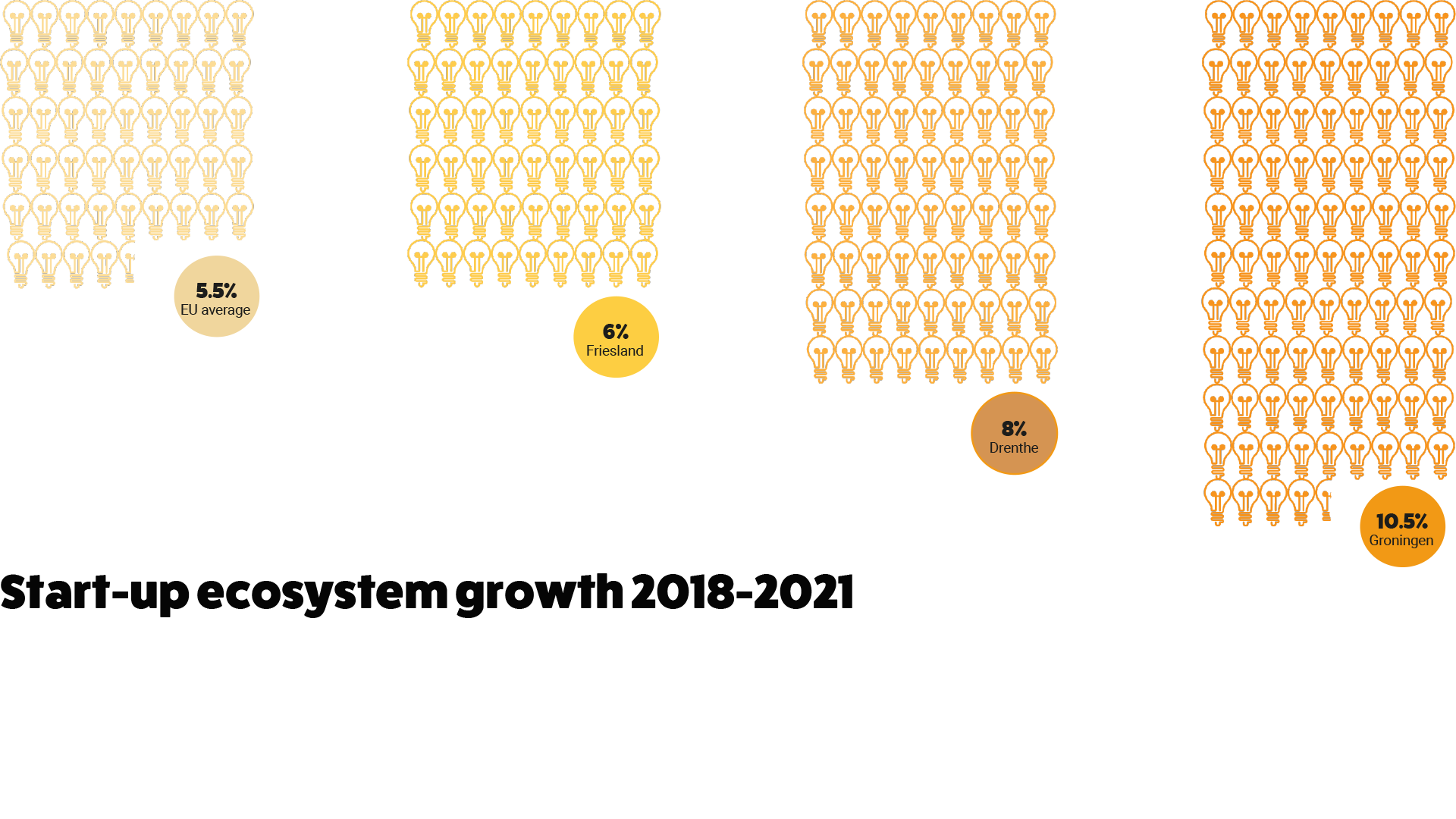 3. Culture of collaboration
Innovation is supported by a tight-knit ecosystem designed to facilitate knowledge and skill sharing.
TopDutch is home to tight-knit communities of start-ups, scale-ups and established firms, who can connect, collaborate, and knowledge-share via our dedicated innovation institutions:

Founded in Groningen
Founded in Friesland
Ik Ben Drentse Ondernemer.
TopDutch's supportive environment has laid the foundations for some of the world's most exciting tech start-ups and scale-ups. Take, for example, HackerOne – recently ranked number 5 in Fast Company's 'Most Innovative Companies' – which was born in Groningen and now has branches across the world. Or Catawiki, who was Europe's fastest-growing tech company when it scaled-up by 45000% in a year.
4. Make yourself at home with our relocation services
Setting up business in a foreign country can bring about great benfits. But it also means taking on a host of new challenges. Through N.V. NOM, we're ready to help you with every stage of the process in (re)locating your business to the TopDutch region.
Our professionals in finance, location/acquisition, business development and networking are here to give businesses from around the world a helping hand.

We know the TopDutch region inside out, and TopDutch industries know us. We know the best business locations, which permits you need to have, who the best energy suppliers are, how to find your dream talent, which subsidiaries or grants you may be eligible for, and how to access them.
We can help you with capital or know who to connect you with. How we can help your business?
The Start-Up Visa NL program is a unique accelerator program that allows the brightest entrepreneurial talent from non-EU/EEA countries to start-up in the TopDutch region.

Founders can live and work on their start-up in the Netherlands for one year, with support of expert facilitators from their industry.

After one year, they may then apply for a further self-employment residence permit, which is gained through a points-based system
The NOM also acts as an expert facilitator for start-ups in the Digital Innovation ecosystem.
5.Take the next step with our business development programs
The TopDutch region is leading in developing green and digital solutions for global economic, social and ecological challenges. Doing that requires not just established companies, but also the innovating thinking of start-ups. That's why we have a number of opportunities for (foreign) talent to set up business in the region.
The Market Readiness Program is for innovative start-ups in the TopDutch region looking to fine-tune their market development.

During a ten week program, together with fellow TopDutch entrepreneurs, you'll test all your assumptions about, and learn to engage with your customer.
In a mix of one-to-one and group sessions, the first half of the program will look at your market, customer types, customer problems and devise a potential solution.
After you've developed, tested and validated your solution, you'll get stuck into furthering your product or business model with a deeper understanding the customer.
The Investor Readiness Program is for innovative start-ups with growth ambitions, a working prototype and a technically, commercially and feasible concept, who want to develop a quality investment proposal in order to secure capital for further development, professionalization or scaling-up.

In a customized , one-on-one program, our business developers will coach you on all aspects of your business case: From the product, to market validation, business plan, and financing strategy.
Once the program is completed, and you've developed a concrete investment proposal, we'll help you connect with the investor that's right for you.

For established start-ups looking to scale-up or expand in the TopDutch region, we provide personalized business development and location services.

We offer a personalized business development assessment, access to our network of investors and financing options, and location services – of course in terms of finding the perfect spot for you – but also sharing our knowledge on factors like regulation, taxation, subsidies and finding talent.
Our process
Get started

1. Get in touch
Through our TopDutch contact page, by email or direct to your dedicated industry project manager, get in touch to start the conversation.
2. Alignment meeting
We'll schedule a meeting with you and our regional dedicated project team to identify your needs and align objectives.
3. Network Roundtable
Based on your start-up needs, we'll set up a roundtable with your future network. This could include a facilitator, investors or industry buddies, for example.
4. Personalized start-up plan
Your dedicated project manager will draw up a personalized start-up package, with a checklist of arrangements and practicalities needed to successfully start-up in TopDutch, and a plan of how they'll support you.
5. Settle into TopDutch
The IWCN helps with the boring stuff (bureaucratic or practical matters) and the fun stuff (like meeting new friends!) Meaning you can jump right in to supercharging your start-up.
6. Business development
The NOM offers a number of
business development programs for (foreign) talent to set up
business in the region. Mix and match our programs to tailor a
personalized track that matches your needs.
7. Facilitating financing
Has your business reached the next level, and you need an injection of capital to achieve your potential? The NOM, alongside its own investment fund, provides access to their network of financiers, and will connect you with an investor who works for you.
8. Always a helping hand
Your dedicated project manager will draw up a personalized start-up package, with a checklist of arrangements and practicalities needed to successfully start-up in TopDutch, and a plan of how they'll support you.
Contact
Speak to an expert
Project manager Start-up's
Sign up to the newsfeed!
TopDutch Start-up Package
Get your hands on:
Unlimited access toTopDutch articles
The most exclusive investment updates, industry insights and key stories from our key industries
Invites to exclusive international industry events and meet-ups
"*" indicates required fields