Why Californian start-up Aquacycl chose TopDutch for their European expansion
We need to start treating water with more respect. Water plays a vital role in some of our most important industrial processes: In the food and beverage sector, agriculture, engineering, as well as for sanitation in our every day lives.

Yet a staggering 80% of global wastewater is discharged into the environment with little to no treatment, posing significant threats to the environment and human health. And the old-school processes used on the 20% that is properly treated accounts for more global greenhouse gas (GHG) emissions than the entire shipping industry combined.
Nature meets tech
Aquacycl uses cutting-edge technology to deploy natural bacteria that cleans-up wastewater with 90% fewer GHG emissions than the traditional processes. Their Bio-electrochemical Treatment Technology (BETT) system is made up of tiny modular reactors, each about the size of a car battery. Companies can connect more or less like LEGO bricks, depending on the challenge and the volume of wastewater. As water passes through the BETT reactors, locally-sourced microbes consume the organics in the wastewater, and in the process naturally produce electrons – which are used to generate DC power and speed up the treatment process.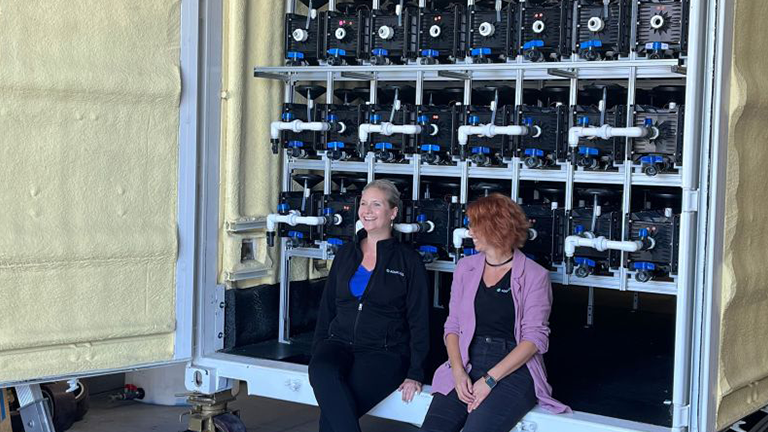 Next big thing
Founded in 2016, the San Diego-based start-up originally focused on sanitation, seeking to address water scarcity and lack of infrastructure in low-income countries. However, they quickly realized the big global impact their technology could also have on other industries and processes. "Aquacycl's decentralized wastewater treatment as a service helps companies treat some of the most challenging wastewaters, with 90% lower greenhouse gas emissions," commented Orianna Bretschger, CEO and Founder at Aquacycl. "The guaranteed compliance, cost savings, significant energy savings and GHG emissions reduction addresses the major drivers for our corporate clients". In only a few years, Aquacycl formed partnerships with big food and beverage companies such as PepsiCo, and were honoured in Fast Company's 'Next Big Thing in Tech' awards 2022. The following year they were also nominated for the prestigious Earthshot Prize, platforming innovations that will lead the sustainable transition.
From pretty early on in Aquacycl's journey, they were in contact with the team at the TopDutch-based Water Alliance – the European partner of the Global Water Tech Hub Alliance. "We have always loved what is being built at the Water Alliance," the company said. So when the time came – thanks to the regulatory, disclosure and consumer preferences in Europe driving the adoption of technologies that help companies to meet their ESG goals – for Aquacycl to set up an European HQ, TopDutch had to be on the longlist.
Gateway to Europe
After a thorough evaluation of different countries' water clusters, Aquacycl ultimately settled on the Netherlands, and the Water Alliance. The Water Alliance at the WaterCampus plays a pivotal role in helping Aquacycl achieve their European expansion plans, by creating strong connections within the regional and international water sector, providing lab resources for water quality testing and staffing support for operating wastewater sample tests, as well as strong connection with research and development teams to continuously innovate the system development.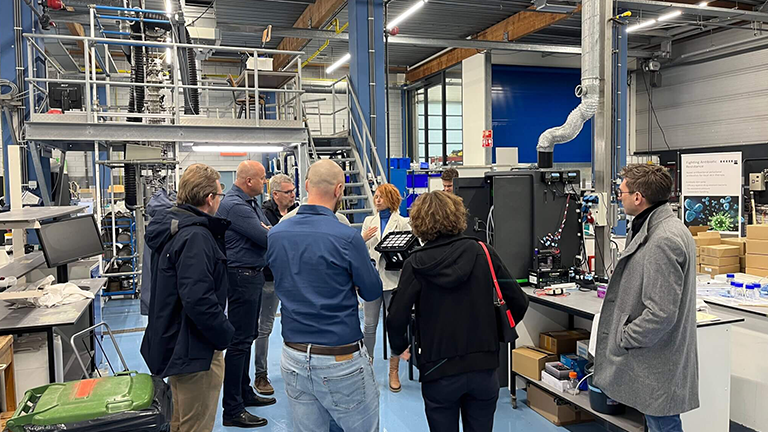 "Throughout the evaluation and setup process, Aquacycl received tremendous support from the Water Alliance, Netherlands Foreign Investment Agency (NFIA) and Investment and Development Agency for the Northern Netherlands (NOM), as well as the economic team of the municipality of Leeuwarden," Aquacycl said.
"We are thrilled to welcome Aquacycl to the WaterCampus," stated Hein Molenkamp, Managing Director at Water Alliance. "This helps to showcase what an important role Water Alliance is playing in driving innovation and global collaboration in the water sector. We are proud to have companies that are addressing some of our most challenging water problems choosing to join us at the WaterCampus. Our community of diverse stakeholders helps set the foundation for success for companies in the water sector."
---
Call me back
Please feel free to fill out the "Call Me Back" form below, and we'll be delighted to get in touch with you at your convenience.
"*" indicates required fields
We use cookies to optimize your experience on the website, analyse traffic on our website and to show relevant ads to thirds. Read more about how we use cookies and how you can customize your preferences by clicking on "settings". If you agree with our cookie policy, click "allow all cookies".
These cookies are used to optimize performance and functionality of the website. These cookies are not essential when browsing the website. However it is possible certain elements on the website will not function properly without the cookies.
These cookies collect data that we use to understand how our website is used and perceived. These cookies also help us to optimize the website for the best user experience.
These cookies allow ad-networks to monitor your online behaviour so they can display relevant ads based on your interest and online behaviour. These cookies also prevent the same ads from being displayed over and over.