From London to Leek: Barry de Reuver, Partner and CEO at Wellinq
In 2011, Barry de Reuver left the hustle and bustle of London's financial district to start a new life in the TopDutch region. Determined to find a career he can make an impact with, he joined Wellinq as partner and COO, and three years later became their CEO. He oversaw a transformation of this medical technology firm and achieved a sharp rise in turnover. But, 'at the end of the day, you have to do it together' he says. Let's take a look at what led to this success story.

Barry de Reuver spent almost 18 years as an investment banker. First in Amsterdam, but soon thereafter in the City of London. There, in the financial heart of Europe, he developed his career guiding mergers and acquisitions in the chemical, pharmaceutical and medical technology sectors. At the age of 40, in 2011, he decided to leave the banking world, and London. 'At a certain point, once you bring five daughters into the world, you start to think about how you want to spend your next years,' muses Barry. 'That's when I decided to bring my family back to the Netherlands and get my bearings for the next adventure.'
Impact
Once resettled in his home country, Barry started to look at potential next steps in his career. 'I'm no genius inventor,' he admits. 'Don't expect me to come up with a brilliant idea that I'll work to develop. I'd rather build something with others and help it grow. Preferably something that I can have an impact with and take pride in. And I eventually found just the company. I was fortunate enough to have crossed paths with the right people.' Barry is referring to meeting Floris Alkemade and Bas Ludolph, who founded Wellinq in 2011.
Wellinq is an innovative medical technology firm, with branches in the Dutch towns of Leek and Helmond, focusing on developing and producing cardiovascular medical devices and sensors. It quickly piqued Barry's interest, especially because the firm had just won some major sales contracts, requiring a rapid scale-up of production, product development and the organization. And yes, he was more than willing to help build on Wellinq's growth.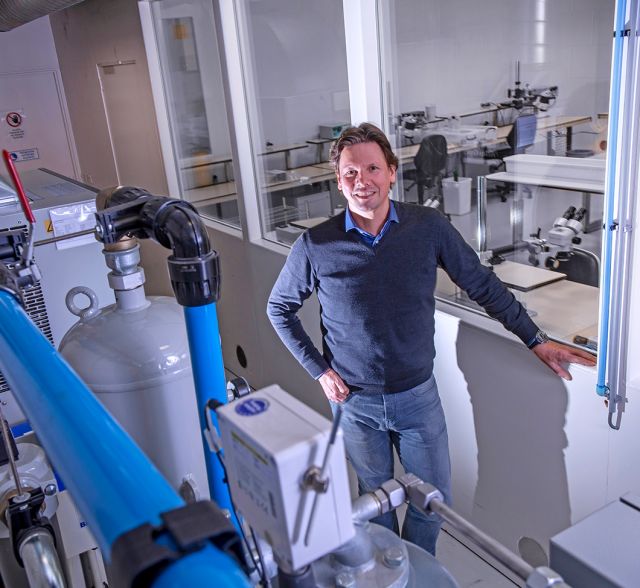 One Wellinq
The interest turned out to be mutual. So in 2013 Barry joined Wellinq as their COO. At the same time, he was appointed CEO of PendraCare, a successful Wellinq subsidiary that develops and produces (smart) catheters for cardiological, radiological, urological and other applications. He still recalls his first few weeks in Leek. 'From day one, I learned that everything hinges on the decisions that I have the courage to take in a day. Decisions with sometimes minor, but also often major consequences for the company. While I had prepared countless decisions in the past, I never actually had to take them myself. It took some getting used to, but I mainly saw it as a great challenge.'
In addition to PendraCare, which received growth financing from the Investment and Development Agency for the TopDutch region (the NOM) in 2015, Sentron was another subsidiary of Wellinq. This company, then based in the nearby town of Roden, develops, produces and sells sensors and measuring equipment. 'PendraCare and Sentron complement each other perfectly,' says Barry. 'We could combine catheters with sensors to make smart devices. Not only can a catheter that has been fitted out with a sensor reach the trouble spot in a heart or blood vessel, it can also take the required measurements - all in a non-invasive way, which means it's not unpleasant for the patient.' In 2013, Wellinq also acquired Blue Medical Devices. Just like PendraCare, this global player in interventional cardiology boasts its own development and production environment, but for balloons. Balloons used to treat blood vessels, to be precise. It was another high-quality addition to Wellinq's activities, because this balloon expertise allowed the company to develop even better applications.
Everything hinges on the decisions that I have the courage to take in a day.

Barry de Reuver, Partner and CEO at Wellinq
Support from a minority shareholder enabled substantial investments in people, machinery, quality systems, production technology and product development. The company met with such rapid success that in 2015, it saw the departure of the minority shareholder and welcomed a new majority shareholder: Bencis Capital Partners. 'That was a carefully planned move,' explains Barry. 'Attracting a new shareholder allowed us to integrate PendraCare, Sentron - now called Sensor Solutions - and Blue Medical Devices into a single company. One Wellinq: for even more efficient collaboration, even faster decision-making and even better anticipation of market demand.'
In the big league
Barry grew up in Zutphen, in the Eastern Netherlands. A large part of his childhood in this Hanseatic city consisted of tennis. He was talented and long aspired to go pro. When he realized that he might be aiming a bit too high, he decided to go to university. Spurred by his love of technology, he read Industrial Engineering & Management at the University of Twente. 'I made a highly practical choice to study there so I could easily travel back and forth to Arnhem, where I was still training,' Barry remarks. 'After graduation, I was about to start at GE Medical Systems in Paris. Until ABN AMRO foiled my plans by enticing me to work at their new Mergers and Acquisitions department. They were looking for students with a technical background and a healthy dose of ambition. Why did I do it? Because it sounded exciting to work on projects in a new environment with brilliant colleagues. I ultimately wanted to go abroad, to New York or London, so I could play in the big league. That has everything to do with my sports mentality. I always feel a drive to raise the bar a little higher. In London, I found every opportunity for that.'
After his time in London, where he followed up his position at ABN AMRO with a stint as Managing Director of Mergers & Acquisitions at investment bank Merrill Lynch, he ended up at Wellinq in Leek in 2013. When the co-founders left the organization after the acquisition by Bencis Capital Partners, he was quickly promoted to CEO. His task was to create a strong and unified medical firm, while at the same time plotting out and implementing the next stage in the company's growth. And he's enjoyed amazing success so far. The new mission of 'Helping doctors improve patients' lives' was central to this development; it saw Wellinq release a flurry of innovations over the past few years.
From a smart urology catheter and a new diagnostic catheter for peripheral applications to multiple new generations of balloons and guide catheters and new sensor technology. 'Hundreds of hospitals use our products all around the world,' adds Barry. 'But we are increasingly focusing on large medical firms that purchase our products and then sell them to hospitals around the world under their own labels. Companies like B. Braun, Terumo and Boston Scientific.'
All in it together
Since 2015, Wellinq has enjoyed incredible growth in both size and turnover. How does Barry explain the company's success? What characterizes his approach as CEO, for instance? 'I've been working with teams and people practically my whole career,' he explains. 'I've learned that at the end of the day, you have to do it together. It's all about teamwork and how you motivate people to achieve the desired results. But it's not just the results that matter – it is also how you achieve them. That's something we've proven over and again at Wellinq.'