A revolutionary catheter and a funding injection: Inside MedTech start-up PulmoTech's journey to market
PulmoTech developed an innovative catheter to improve ventilation in intensive care patients. With CE certification imminent, the medical technology start-up from Leek may soon enter the European market. To support that next step, the Investment and Development Agency of the TopDutch region, N.V. NOM, have invested in the company.

Almost everything is in place and an investor has been found. PulmoTech is preparing for the market introduction of a groundbreaking innovation in healthcare. 'With our technology we can indirectly make a difference in the quality of life of patients who are on life support in intensive care,' CEO Rutger Flink emphasizes. The startup developed a catheter with an integrated pressure sensor that allows better adjustment of ventilators and, for the first time, continuous monitoring of patients' esophageal pressure. And yes, that's a big step forward. Especially since the innovative catheter provides physicians with the right data to protect the patient's lungs and breathing muscles during ventilation.
Utmost precision
Every year, an average of about sixteen million patients worldwide are given artificial respiration. A respirator then delivers (extra) oxygen into the lungs, removes carbon dioxide from the body and thus supports breathing or takes over completely. For many patients, artificial ventilation is life-saving. 'To avoid unnecessary damage to lungs and breathing muscles, a ventilator must be set with extreme precision,' says Flink. 'This is because the pressure required to facilitate gas exchange varies from person to person. However, current techniques, such as balloon catheters, take too much time to be generally practical, which also compromises the accuracy of measurements.'
A balloon catheter is connected with a tube, often of considerable length, to a pressure sensor. In this way, a significant portion of the pressure signal is lost in the pathway. 'It gives, in short, a less accurate insight into the patient's situation,' Flink clarified. 'It is a nice, but somewhat outdated technique. With our catheter, thanks in part to the integrated sensor, we are improving pressure measurement. After all, you measure the pressure directly where you want to measure it. Very accurately, catching any change in pressure. Moreover, properly inflating the balloon of the balloon catheter takes time. With our catheter, on the other hand, it is a matter of correcting, inserting and measuring once. And that measurement is also done five days in a row, continuously. So also in terms of clinical workload, we are providing a huge improvement.'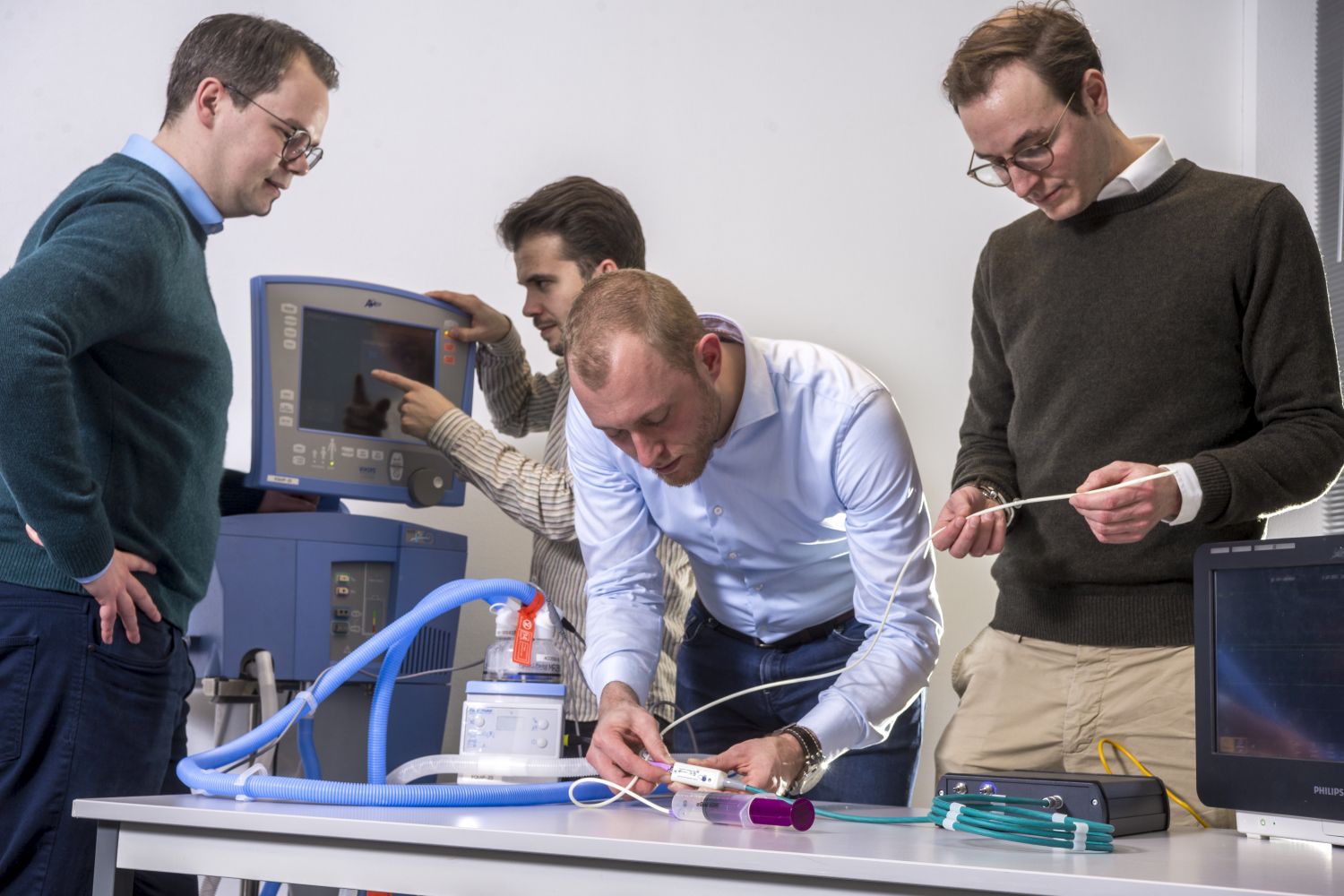 Certification
PulmoTech was founded by Flink in 2018. Shortly before that, he had found a technology partner in Wellinq Medical. Since then, PulmoTech has held offices at the location of the innovative medical technology company from Leek. The goal was to make the catheter available to the market during 2021. Until corona threw a spanner in the works. 'Suddenly it was no longer possible to test on users in hospitals, and the certification process was also seriously delayed,' Flink explains. 'That hit hard. Now we are very close to the crucial CE certification and will soon be allowed to sell the catheters throughout Europe.'
After Carduso Capital, an investment fund working with the University of Groningen (RUG) and the University Medical Center Groningen (UMCG), invested in PulmoTech in 2019, NOM recently decided to do the same. 'The innovation fits very nicely into the current era,' says Annemieke Wouterse, NOM's Investment Manager. 'COVID-19 has shown once again how important it is for intensive care patients to get off life support quickly and properly. PulmoTech's catheter can play a major role in this. In addition, it is of course a major achievement for such a young company to receive CE approval in these times. It says a lot about the potential and importance of the catheter. NOM funding will be used by PulmoTech for the final steps toward CE certification and market launch. 'The product is completely ready,' Flink underlines. 'To gain even more insights, we are setting up a new clinical study together with Erasmus MC. In addition to Europe, we will eventually set our sights on the United States. Or better: our goal is to eventually have the catheter available all over the world.
Sign up the newsfeed:
TopDutch Professional
"*" indicates required fields