Welcome to TopDutch, Europe's blueprint for the new hydrogen economy. Discover an ambitious program of hydrogen production, storage and transportation investments and a culture of open green energy innovation throughout the value chain, all located in heart of Europe's largest futureproof energy sourcing area.
1. The natural business location for a new hydrogen economy
3. Integrated ecosystem across the value chain
2. Hub of innovation
4. Entrepreneurial government
1. The natural business location for a new hydrogen economy
Our inherent natural resources, and existing energy infrastructure, skills and knowledge made us the natural choice for Europe's first Hydrogen Valley. With the HEAVENN large-scale demo cluster now in full swing, we will continue to lead Europe's hydrogen economy by fulfilling a $10 billion joint investment agenda by 2030.  
Born on Europe's largest natural gas reserve, we will be the first region to proactively conclude natural gas extraction, leaving about 70bn USD of fossil fuel in the ground by 2024, and are instead upgrading and expanding our extensive transportation network.

By 2025, the TopDutch region will be home to 169km of hydrogen pipelines.

These will connect to a further 6,800km of pipelines across the Netherlands, Germany, Belgium and France by 2030.
We're at the heart of Europe's largest futureproof energy sourcing area. Over half of the Dutch energy supply and one third of the European energy supply will be coming from the North Sea in a matter of years, presenting large-scale hydrogen production and storage potential on TopDutch's extensive coastline.

We will generate 12.2 TwH of on-shore wind and solar power by 2030. In addition, we have a 600 MW production capacity in wind parks off the TopDutch coast, with plans for another three parks totaling 4,700 MW.

The Northern Netherlands also has access to natural hydrogen storage locations in salt caverns. The Netherlands has the 2nd largest salt cavern storage capacity in in Europe – up to 150 PJ – of which 72% is in the TopDutch region.
Our unique geography, geology and existing energy cluster means we're naturally leading Europe's transition to hydrogen. Major multinationals including Engie, RWE and Shell, local energy heavy-hitters such as Gasunie, and our ambitious state are collaborating on an ~$10 billion hydrogen production, storage and transportation joint investment agenda, allowing us to power Europe's future economy with 100PJ of hydrogen p.a. by 2030. Major projects include:

HEAVENN: A large-scale program of demo-projects, this €90-100 million cross-chain cluster development plan led us to being designated at Europe's first 'Hydrogen Valley'. Making up 13 individual projects across  production, distribution, storage and end-use of hydrogen, it now serves as Europe's blueprint for a green hydrogen economy across the value chain.

HyStock: The first of four planned converted salt caverns – connected with an above-ground plant and our transportation network – will be available to store 200 GWh of hydrogen by 2028.

 Ten noorden van de Waddeneilanden: Already endowed with an existing submarine natural gas pipeline and a planned 700MW capacity wind farm, in March 2023 the North of the Wadden Islands area was designated for the world's largest offshore wind-to-hydrogen project. The 500MW offshore production and transportation green hydrogen project should be operational by 2031.e.

NortH2: A consortium of Eneco, Equinor, RWE and Shell aim to produce, store and transport 4GW by 2030 (and 10GW by 2040) of green hydrogen. They will do this by investing in large-scale offshore wind farms, an electrolyser and a smart storage and transportation network beginning in the TopDutch region, and stretching across Northwestern Europe.
2. Hub of innovation
TopDutch offers an energizing environment for innovation in hydrogen technology. Our open and connected knowledge networks facilitate breakthrough advancements from fundamental science to market.
We're creating a generation of new energy-skilled talent via our world-leading higher education system.

17,000 vocational, applied science and research university students are trained for a role in the energy system per annum, and graduate into the TopDutch workforce ready to change the world.

We have the best knowledge cluster dedicated to the energy transition. Dedicated education institutions include Energy Academy Europe, Energy Delta Institute, and Greenwise Campus from the University of the North.
TopDutch has a culture of open innovation, with a tight-knit network of knowledge sharing initiatives, living labs, shared testing facilities and innovation centers jointly focused on developing new applications for green energy technologies.

EnTranCe: Center of Expertise Energy is a living lab for energy transition where entrepreneurs, authorities, scientists and researchers collaborate on working solutions to accelerate the role of green hydrogen in our energy system. Shared facilities here include the Hydrohub MegaWatt Test Center, and the Green Hydrogen Booster SME 'test garden'.

Hive.Mobility: is an innovation center for smart and green mobility. They offer companies, government institutions, students and researchers the opportunity to jointly develop, test and apply smart and innovative solutions for mobility in the TopDutch region. They run pilot hydrogen projects on everything from trains to drones to trucks.

NXT Airport: is a living lab dedicated to smart and sustainable aviation. An initiative of our Groningen Airport Eelde, it provides business, government and academia with shared research and testing grounds. They are currently developing an electrolyzer to produce green hydrogen as an emission-free energy carrier for light aircraft, drones and ground equipment.

HyDelta: Our Hanze University of Applied Sciences, New Energy Coalition and Gasunie are collaborating with other Dutch parties on the HyDelta national research program. Focusing on 6 work packages, they aim to empower the hydrogen economy by resolving technical, scientific and social barriers.
3. Integrated ecosystem across the value chain
Our hydrogen cluster is unique in the world for its fully-integrated value chain. Besides its innovation center, manufacturing, production and transportation network, we are accelerating demand-side innovation in our chemical and heavy industry, mobility and built environment.
Our Green Chemistry ecosystem, Chemport Europe, will be the first fossil-free and carbon dioxide-negative chemical cluster.

From its location in the Hydrogen Backbone Delfzijl, our chemical companies produce bleach, green methanol, amongst others with feedstock from its on-site 20MW electrolyzer. Demand is growing rapidly, so this will soon scale-up to a 100MW electrolyzer.

In its Emmen location, a 4MW electorlyzer and the GETEC 'green steam' gas turbine will directly connect to our chemical and heavy industry companies via a newly constructed pipeline.
We're fueling the green hydrogen economy on land, air and sea. Examples of hydrogen-based projects in our mobility sector include sustainable aviation fuel production, a pilot hydrogen-powered train, and hydrogen-fueled shipping. We're also home to Europe's first hydrogen truck factory, and a dense network of filling stations.  
In the 'hydrogen village' of Hoogeveen, a series of conversions and a planned 100 newbuilds will allow TopDutch residents to stay cosy more sustainably with hydrogen central heating. The first hydrogen homes will be unlocked in summer 2023.
4. Entrepreneurial government
TopDutch's entrepreneurial mindset extends to its government, with a state willing to co-invest and offer supply- and demand- side incentives.
Through the 'National Growth Fund', the Dutch government is investing €20 billion between 2021 and 2025 in two tracks aimed at sustainable economic development of the Netherlands: Knowledge Development; and Research, Development and Innovation

As part of the EU's Just Transition Fund, € 330 million will become available to support innovation to accelerate the energy transition in the Northern Netherlands, which can subsize up to 50% of investments in projects.
The Nationaal Programma Groningen has allocated  €1.15 billion in seed capital to invest in socio-economic development projects in the Province of Groningen, including in projects that will accelerate the energy transition and the circular economy of the TopDutch region.

The Waddenfonds are investing  €8 million into hydrogen-fueled shipping.
HyNorth is a public-private consortium dedicated to strengthening and growing our hydrogen cluster, and supporting our partners with research, networking and business development programs.

The national government provides attractive incentives for companies active in sustainable development. This includes significant tax credits for R&D and a 9% effective tax rate on profits from self-developed innovations, as well as stimulation subsidies to support companies on their personal energy transitions. 
CONTACT
Join TopDutch
So what will be your next move? How will your company play a leading role in the worldwide energy transition? Contact our network of knowledge-intensive institutions and innovative and entrepreneurial companies. You'll soon see for yourself how quickly things get done here in the Northern Netherlands.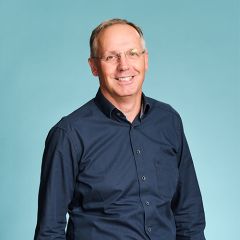 Project manager Energy & Logistics
sign up for our newsletter!
"*" indicates required fields